Hunter Valley Wedding Bands
Live Music Band Recommendations
Are you searching for amazing Hunter Valley wedding bands so that you can have live music at your wedding? Well, you have come to the right place. I am a wedding photographer who shoots weddings every week in the Hunter Valley so I have seen a lot of Hunter Valley wedding bands in my time. The awesome, the awful, and the average.
Here is my take on wedding bands. And I am explaining this because wedding couples would have no idea of this. They seem to come in three main groups.
Individual artistis, duos, trios and bands.
Agencies – who have artists on their books and you work with the agency to find the right artist.
Franchise Bands. They sound like a band, but in actual fact they are hundreds of interchangable musicans that work under the same name. So any given Saturday night there could be a twenty or thirty versions of this band playing around NSW. Very often they will not have played with each other.
I am all for the first two.
Individual artists, duos, trios and bands who will actually work their butt off for you. And I really do believe that any wedding vendor whose name is on the business will work so much harder than someone getting paid by the hour. So here are the Hunter Valley wedding bands that play live music and will keep the dancefloor packed who I am happy to recommend. I've also only kept the list to those people that live and work in the Hunter Valley & Newcastle areas so that I am supporting other local businesses.
1. Jackson Broadway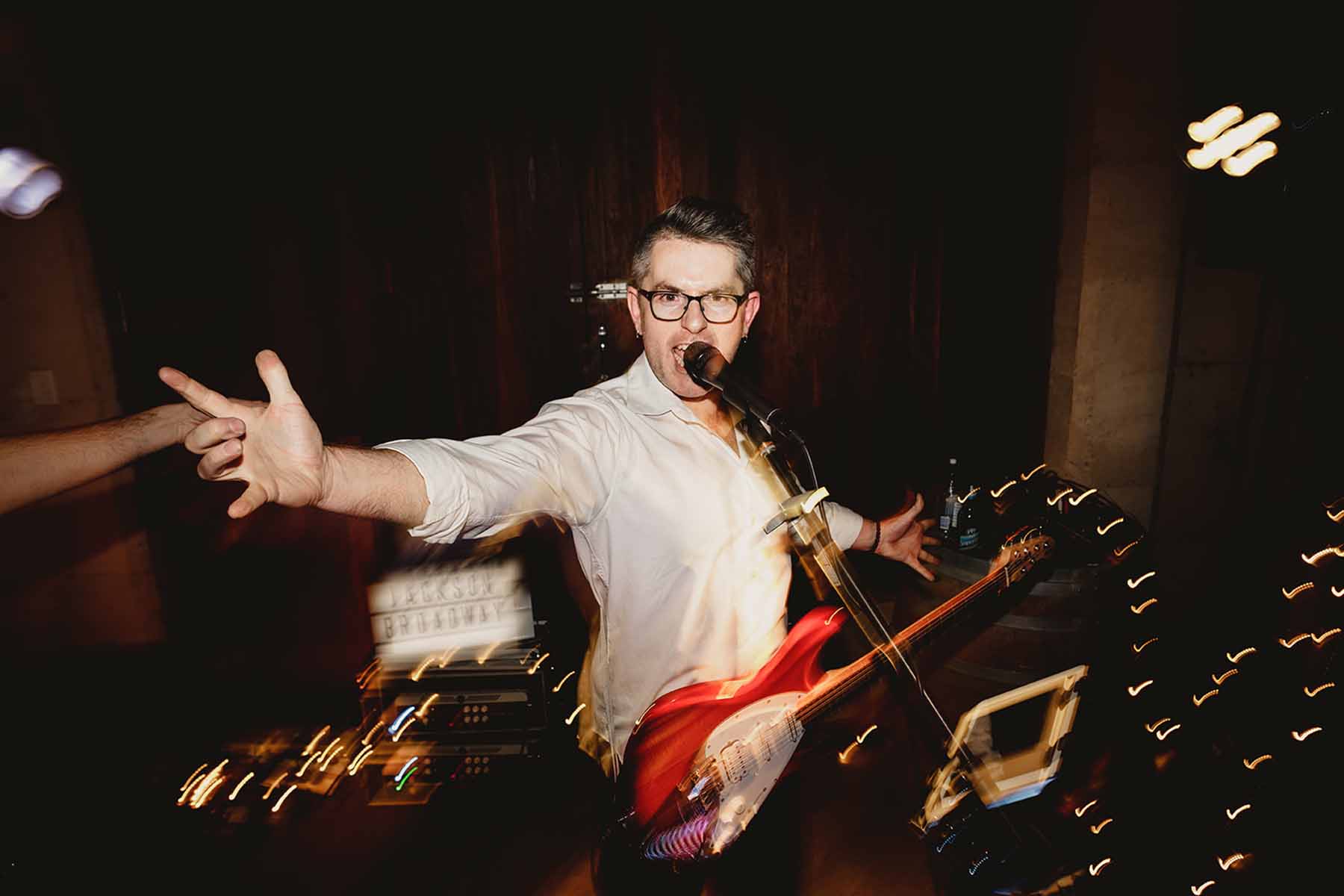 Tim and Justin are the guys behind Jackson Broadway, both accomplished musicians and singers. And every wedding I do with them absolutely goes crazy. They really know how to read a crowd and get the dancefloor packed. They are amazing singers and can really belt out a song as well as play a soulful ballad. And they are really fun guys at a wedding.
I've seen them cover a full day and night of music as well. So covering the wedding ceremony and pre-dinner drinks as well as acoustics over dinner. Before getting into party time.
During the dancefloor time they play all the party hits, they ad-lib and take requests. They are really fluid with their performances and really read the crowd well. It's great to see these guys in action and see the passion and energy that they give to the dancefloor. And watch out for their epic rendition of Bohemian Rhapsody.
2. Kylie Jane Music
Klyie Jane is a singer-songwriter based in Newcastle and sings and performs all over the Hunter region and beyond. She is an accomplished vocalist and some of you might have seen her as a contestant on The Voice Australia.
I have worked with her a few times over the years and have always been so impressed with her work. She normally does acoustic sets during the ceremony and pre-dinner drinks. And for the reception, I have seen her perform on her own or get other band members to play with her
Kylie Jane and her band are true wedding professionals that will create an awesome atmosphere and a wonderful party.
So that's my list of awesome Hunter Valley wedding bands. It's a short one, but a good one. I highly recommend these guys. Your dancefloor will go off!
And if for some crazy reason you haven't booked a wedding photographer for your Hunter Valley wedding, then please check out more of my work. And if you like what you see, please get in contact
Tips to choosing your Hunter Valley Wedding Band
Choosing the perfect Hunter Valley wedding band will guarantee that no one forgets how awesome your wedding day was.
Planning a wedding can be one of the most stressful times in your life. There are so many details to think about. With all of the important things that need to be taken care of, there is one thing that many people forget about: entertainment. A spectacular Hunter Valley wedding band can make or break a special day. The right band can make your event a memorable one, while the wrong ones will leave you and your guests wishing they were somewhere else.
Assembling a wedding band is an important part of the planning process. After all, you'll have to put in months' worth of work just to book them! But don't fret; we're here with some great advice on how to find your perfect match and make booking live entertainment stress-free for both parties involved.
Talk to Your Wedding Venue
There are some venues that have restrictive policies for live musicians on the big day. So, talk to your venue before you book a band. If you're going to be playing live music, make sure the venue doesn't have any restrictions on volume. You'll want to reach out and let your band know about any restrictions in place before you book them. Make sure they're happy with the event!
To ensure that your venue is able to host bands with volume restrictions, you'll need to investigate its sound limiter. You can ask the manager or owner what decibel limit they have on their system. The band will need to know in advance and bring appropriate equipment if they want their concert volume level to be within the strictest decibel limits.
Sound limiters are a pain to deal with. The entertainment agency has dealt successfully with venues that use a sound limiter and can answer any questions you may have about how it works or what they need in order for your event to be successful.
Agency or Individual Bands
I personally prefer booking an individual band but the problem with this is if you choose the wrong band or haven't done enough research then you could be disappointed.
When you work with a reputable wedding entertainment agency, they will take care of all the administrative aspects of booking your band. A good agency can help you find the perfect band for your event so that they are all together in one place. Why go through a headache of trying to compare each performance when there's an easier way?
If you're not sure what band to hire, then tapping into an entertainment agency is a godsend. They have all sorts of bands with varying genres and styles for any event imaginable! Experts can help guide your every decision and make sure that the perfect day unfolds just as planned! The advisers at these companies can do it all for you, so even though bands may try and contact multiple acts, the process is simpler because there's only one name band needs to remember!
Security is the main concern when it comes to paying for services rendered. Agencies have multiple ways that customers can pay, ensuring trust in their service and your security as a customer is not compromised. When you book an act through the established entertainment agencies, they will make sure your booking is secure with third-party payment systems and legally binding contracts.
Never go to a wedding without doing some research about the band you want to have at your reception. You should always check their reviews on independent sites like Google, Trustpilot, and Facebook.
Set Your Budget
There's a price for everything, and wedding bands are no exception. A live band can range from hundreds of pounds to tens of thousands. As a rule, the more people in your band, the higher you should expect to pay. You should also consider how experienced they are and their popularity in order to make sure that all of your guests will have a great time. The more popular or well-known they may be though means it's likely that travel expenses and accommodation fees will add up quickly too!
An average 4-piece band will cost you between £900 and £1300. Put the worries of your big day behind you by hiring a top-class live band to make it memorable. If you're worried about the budget for your wedding, there are still ways to hire musicians that will have everyone talking afterwards!
Consider looking into reduced line-ups or even solo artists with their own sound that can do the job for you! It's easy to have a full band sound at your next event without the expense of hiring one. Skillful solo and duo performers make clever use of professional backing tracks or loop pedals which allow them to replicate that same experience for much less than if you were to hire in-person musicians.
Select Your Sound
Whether you're into rap, country, or metal music there's a band out there that can deliver the performance to suit your needs. You're going to find the perfect band for your event within minutes! The entertainment agency website will conveniently divide bands into different genres and styles, making it all too easy to find that one-in-a-million act.
Make sure you reach out to the agency if you're having trouble finding a band that suits your needs. After chatting with them about what kind of music and vibe would work for your event, they should be able to provide several amazing options.
From the day you put on your wedding band, it will be a symbol of unity. It can also serve as a reminder to others that they are part of something special – both in marriage and with family and friends. Music is a great way to get everyone in the party mood, and nobody wants to feel left out.
In order for this goal of inclusive music, a set-list can be achieved, look into bands who are able to play songs from different genres so that every guest will have a chance at getting pumped up on their favorite song!
What's Included?
If you know what kind of metal and style your wedding band should be, it is time to find the perfect band. When you watch a band's promo video, it can be love at first sight; that is the band for you. If you're a true music lover, it's hard to imagine not being smitten by the sounds of your favorite band. But make sure that when booking one for an event like yours, their entertainment package meets all your requirements!
You'll want to find a band that knows the songs you love, especially if they're special for your particular wedding. Simply put, it's important that your chosen band be knowledgeable of all pertinent music genres and their respective repertoire so as not to spoil any surprises on the big day!
When it comes to first dances, your wedding band will be happy playing the song of your choice. But if you want something specific like a country or rock ballad (or even an obscure request), make sure their fee includes that as well.
What could be more important than the sounds that fill your ears and make you dance? Whether or not a DJ is provided, whether there will be sound equipment for guests to use. You should book extras like additional musicians for the line-up or background music during daytime hours.
Book Your Wedding Band!
You may not know this, but the best way to get a band booked is by getting them while they're hot. This means that if you find your favorite new country singer, don't wait around–book their show before someone else does! To avoid the anguish of missing out on your dream act, make sure to snap them up right away. This is especially true for popular bands in peak season which fill with clients two years in advance!